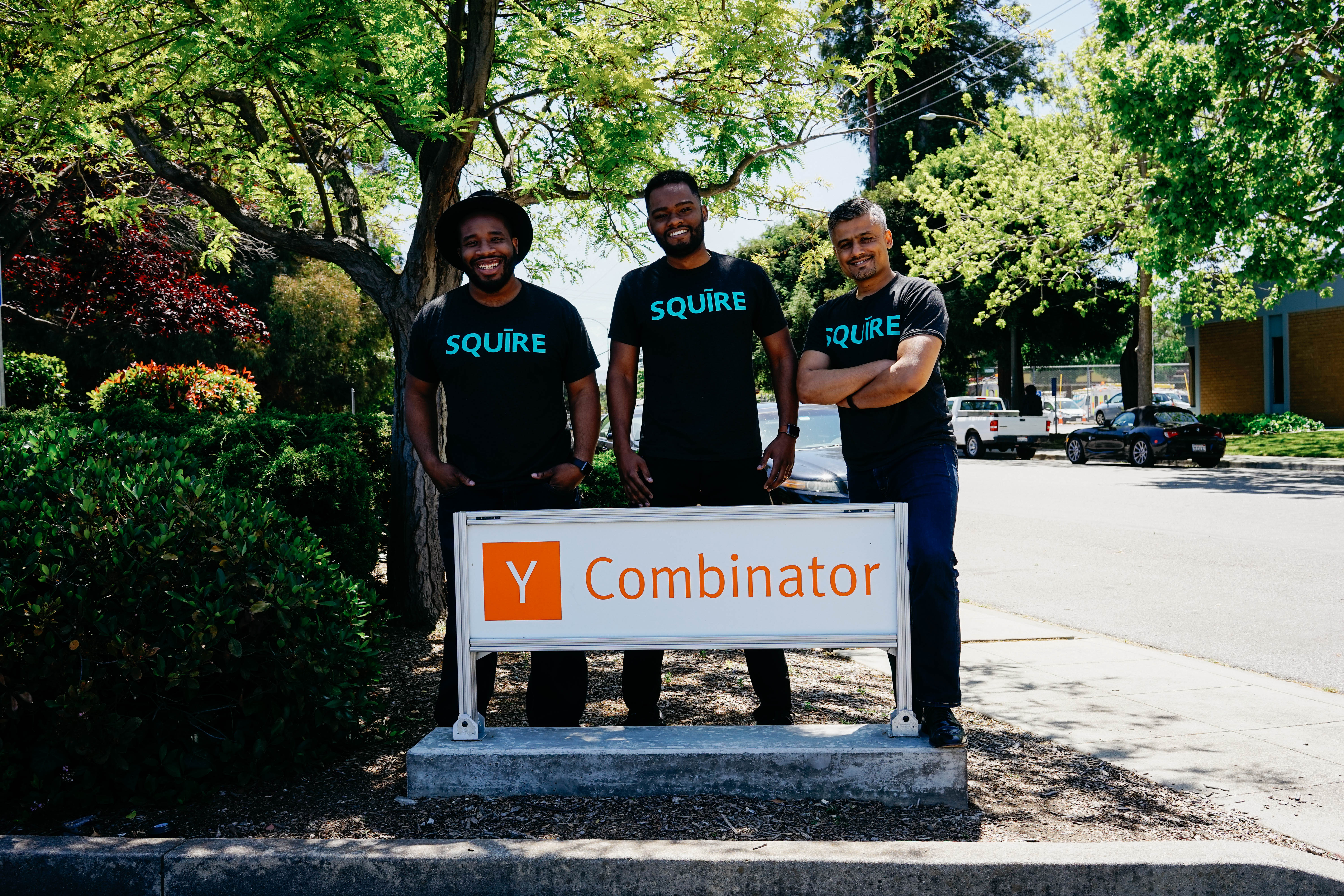 Squire is an app and site that helps guys discover the best barber shops, reserve an appointment, and seamlessly pay for their haircut. Squire also enables barbershops to manage their business and attract new customers. We sat down with Songe LaRon and Yas Tabasam to talk about what they're building.
What YC Likes About Squire:
"Squire is one of the products that once you start using you wonder why it didn't already exist."

Qasar Younis, Partner, Y Combinator
YC :

How did the idea for Squire come about?

Songe: I started going to barbershops with my dad when I was six. Over the years I noticed inefficiencies when I tried to get a haircut. Technology has changed user experience in a lot of industries but when it comes to getting a haircut, it's still very old school. There's no efficient way to find a good barbershop. You have to call in to book an appointment and oftentimes you have to pay cash.

Yas: When I first started working in San Francisco, I drove 30 miles each way to my barbershop. They screwed up my hair so I took matters into my own hands. I started cutting my own hair. Shortly after that, Dave told me what he was working on and convinced me to join Squire.
YC :

How does the app work?

Songe: For consumers, you open the app and it'll show you high quality barbershops in your area. Each shop has reviews, photos of the space, types of services, prices, and when they're available. Once you decide on a barber, you can pay through the app with Apple Pay or your credit card. When it's time for your haircut, it's like taking an Uber or Lyft. You walk in, get your haircut, and just walk out when you're done.

For barbers, we've built a system that lets them manage and run their entire shop. Independent barbershops don't have that many barbers so they can run their business entirely off their phone. High-end barbershops usually have more barbers and a front desk person, so they can use our administrative system on their computers to manage appointments and process payments.
YC :

At what point did you realize you had to build software for the barbershops too?

Songe: We found out quickly after launching in January in New York. The shops that were using it really liked the product but we weren't capturing all their customers. They were just using the app for the customers that we brought in and their old system for their other customers. We realized that the app by itself wasn't enough to fulfill their needs. We quickly built a dashboard product that was able to loop in their customers even if they weren't using our app.

Yas: And we actually ran our own barbershop for six months.
YC :

Wait, tell me more!

Songe: An owner of a barbershop using Squire wanted to shut down his business so we convinced him to let us take over for six months. We used it as a testing ground for our initial admin system, which gave us a lot of insight into what operations looked like. Afterward that shop was actually acquired by one of the larger chains.

Yas: One thing we learned from that experience is that barbers like a lot of flexibility when it comes to dealing with their customers. They'll want to be able to give discounts to their regulars. Sometimes the customer will want to add on additional services like a shave so we incorporated all that into Squire.
YC :

What were barbershops doing before they had access to Squire?

Yas: The independent barbershops scheduled appointments using pen and paper while salons and higher-end shops used software built for a completely different industry. We've seen people use software for yoga studios before. And there's no payment system either. We're actually the first ones to build a product specifically for barbers.
YC :

What sort of feedback have you gotten?

Songe: The consumers love it because we eliminated all these things that make getting a good haircut difficult. Every barber on our platform is top-notch; we test them ourselves before anyone is able to book them.

Yas: Yeah, I'm the guinea pig. (Laughter) But barbers find us helpful too. When they're giving someone a haircut, they don't have time to answer a call or text, which means they might be losing a customer. Answering and scheduling appointments takes up a lot of their time. Our technology lets the customer do all that on their own. Now barbers can focus on what they love to do.
YC :

Why hasn't anyone built a product like this yet?

Songe: In the past decade there has been a resurgence of barbershop culture. People are starting to see barbers as artists now. A lot of the barbers on Squire have more than 100k followers on Instagram. They're sort of the rockstars of the barber community. And men are spending more money and time on how they look. The average cost for a haircut in San Francisco is $49.
YC :

What's your long-term vision for Squire?

Songe: We want to establish a brand that resonates with men. We're starting off with haircuts but we want Squire to help improve men across all aspects of their lives. That's where the name comes from–a squire is a knight in training. The squire helps the knight prepare for war and so we want to get men ready for anything. Whether it's for a date or a job interview, Squire will help you be at the top of your game.